Fallen Diggers Incorporated has taken many previously missing WW1 Australian soldiers off the missing list.
These brave men can R.I.P knowing they have been found and their families now know where they lay in France and Belgium. With our research we have given these men the honour they deserve of a marked grave.
With many more cases before the OAWG and CWGC, we expect the number will grow.
Stand down soldier, your duty is done.
R.I.P knowing you have been found.
New Fallen Diggers Patron
Fallen Diggers is very please to announce that Brigadier Chris Appleton (Ret'd) has joined the Fallen Diggers team as our Patron.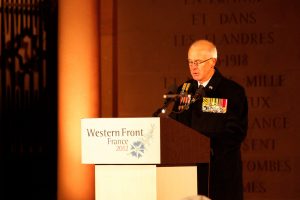 Chris Appleton was an officer in the Australian Army for 33 years. Later he was a senior executive in the Australian Public Service. From 2010-2015 he was Director of the Office of Australian War Graves. His grandfather and father were veterans as are two of his sons.
Dennis Frank and Andrew Pittaway are two ordinary and modest men doing extraordinary work to identify the graves of some of the 35,000 Australians who have died in war and do not have the honour of a known grave. Since first meeting them in 2014 I have admired their ability and persistence in cross referencing diverse sources which have not been compared before, efforts which to date have proven conclusively the final resting place of almost 30 Australians. 
That they have done this work in their own time and at considerable cost is extraordinary. Their efforts and methods are most honourable and deserve our thanks and support.